Florida Libertarians and activists,  it is time to rise up and get to work.
I am tired of talking about cannabis. We have been beating this old, tired drum for decades, but now the time has come. The people are finally on the right side of this issue, and with overwhelming support. Now is the time to push t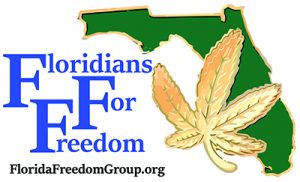 he petition for the Right of Adults to Cannabis, amend the Constitution, and end prohibition in Florida so we can all finally move on.
In order to successfully place the Right of Adults to Cannabis on the 2018 ballot we must reach a minimum of 766,200 verified signatures by the end of the year. That may seem like a tall burden at first glance but I assure you, together, we can easily hit this mark.
I'm not asking you to sign the petition and simply be one of those 766,200. That's too easy. I'm telling you to step up, build networks of activists, inspire others, and lead the way. I'm telling you to get off your keyboards and get to work.
With 33 weeks left in the year our target average is 23,219 per week.
With 1,000 people on board that equals 24 signatures per week.
24. That's it. 24 signatures a week is nothing!
Considering the overwhelming support for this initiative and my personal experiences with this petition it's pretty safe to say the vast majority of the people we will encounter will support it. That means YOU have to ask less than 30 people per WEEK to sign. You should be able to get that amount in an hour or two on the weekend, easily!
You believe in liberty?
You believe in individual rights?
You believe in ending cannabis prohibition?
That's great, now my question to you is, what are YOU prepared to do?
I'm committing to building a network that will produce thousands of executed signatures by the end of the year, and I'm challenging you to do the same.
This is how we get it done, it's just this easy.
Get your hands on some clipboards
Print a stack of petitions, at least enough to keep you busy for a few weeks
This is the tricky part, you have to go outside and talk to strangers! Don't let this intimidate you though! I'll give you the exact words to say next!
Keep the discussion simple and to the point, for example;
"Do you support legal cannabis?" If yes, continue
"Are you a registered voter in the State of Florida?" If yes, continue
"Please sign this petition."
"Thank you for your support". Approach the next person and repeat.
Your direct effort is needed but you're not off the hook yet. I want you to encourage others who share your values and care about individual liberty, the human right to grow a plant, and easy access to natural medical treatments, to take off with their own clipboards and collect signatures as well!  You don't have to sell this petition, it sells itself, all you have to do is get out and get it front of people, then we win.
I don't know about you but I'm tired of this conversation about cannabis prohibition. Let's get this on the ballot, get it passed, end this cannabis conversation, and move on.
I'm calling for every member of the Libertarian Party of Florida to step up, seize this opportunity, and see this petition as the blessing it is. It is the perfect ice breaker for outreach. It is the perfect excuse for you to get out and meet people in your community and introduce them to your ideas. It is the perfect language to finally put an end to cannabis prohibition in Florida.
Go to Floridians for Freedom's website here, print the petition, and get started today.
Stop waiting for this to happen, and get out and make it happen, the time to act is now.
Todd Dennison
Chair, Libertarian Party of Sarasota County